Professional Orthodontics For Children

Townsend Orthodontics have been helping children and teens correct a wide range of dental conditions for over 20 years. We'll give you expert help and advice and talk you through all the different treatment options available. 
Our Orthodontists specialise in jaw and teeth alignment and can offer personal custom-designed solutions for a wide range of problems including
Jaw, arch and alignment issues caused by prolonged thumb sucking or extended use of pacifiers
Bite problems – overbite, underbite, open bite & crossbite correction
TMJ disorders – irregular jaw movement
Spacing between the teeth
Early Orthodontic Intervention
Orthodontics Australia recommends that children between the ages of 7 and 10 see a specialist orthodontist for an assessment. Early evaluation of your child's oral health can diagnose, treat, and even prevent a number of issues you may not even be aware of, so visiting the orthodontist as early as possible is always a good idea.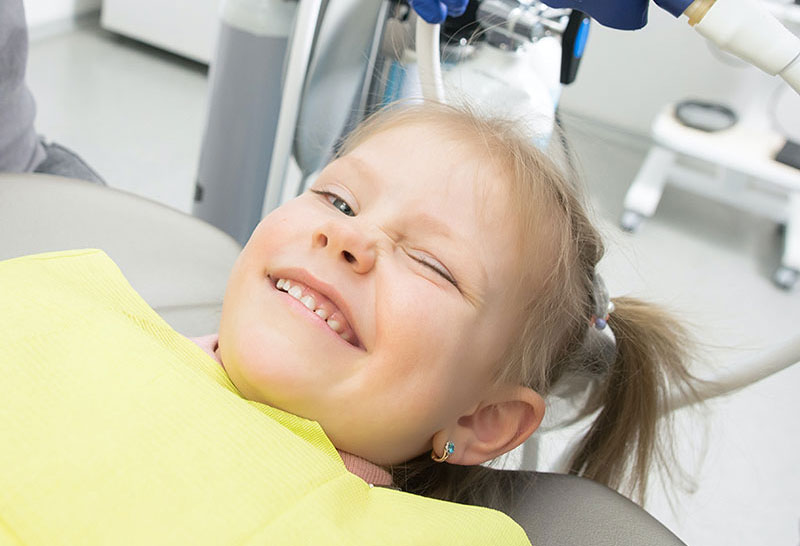 Signs That Your Child May Need An Orthodontic Check-Up
Your dentist will often detect any early developmental issues and refer you to us but here are some of the key signs to look out for
Early or late loss of baby (primary) teeth
Prolonged thumb-sucking or tongue-thrusting
Difficulty in breathing, chewing or swallowing
Mouth breathing
Bite issues
Dysfunctional jaw movement (TMJ disorders)
Kids Braces
Common Orthodontic Issues
Bite issues are amongst the most common orthodontic issues we see in children, and these can often be hereditary.
Overbite
The top jaw/teeth extend forward to overlap the bottom teeth.
Underbite
The bottom jaw/teeth extend forward to overlap the top teeth.
Crossbite
The teeth don't line up properly when the mouth is closed. 
Open bite
The teeth do not meet when the mouth is closed creating a horizontal gap between one or more teeth.
Orthodontic treatments will use dental appliances – braces, clear aligners, expanders or removable plates to gently guide the jaw into position and help to align teeth.
Making a Lasting Difference
Making orthodontic adjustments whilst children are still growing can make a huge difference to their oral health and facial symmetry.  Minor corrections to the jaw to fix bite and alignment issues can help correct eating, chewing, speech, tongue and breathing issues.
Taking The Stress Out Of Children's Orthodontics
Having a child with orthodontic issues may seem quite overwhelming, but our caring Orthodontists will soon put your mind at ease and explain the treatment options available. We understand that some children have anxiety about visiting the dentist but as Orthodontists, we are well equipped to alleviate any fears, and we'll always go the extra mile to help our patients feel comfortable and safe.
Personal Care & Attention
Our professional Orthodontists like to take the time to get to know our patients and we'll conduct a comprehensive examination to assess the development of the teeth, bite position and jaw alignment.  To help you feel at ease you'll see the same orthodontist on each visit, so you're always guaranteed personalised care and attention.
Complete Dental Solutions
Townsend Orthodontics are committed to delivering excellent outcomes and will involve a multidisciplinary team of dental professionals where necessary to correct more complex issues. Our high-tech offices are equipped with state-of-the-art technology to ensure we are always at the leading edge of orthodontic innovations, and we'll work with you and your child to deliver a stunning smile transformation.
We pride ourselves on our experience and focus on providing exceptional customer service.  We take the time to answer all of your questions and will talk you through the different treatment options so you can always make an informed decision.
Children's Braces – Treatment Costs
All orthodontic treatments are custom designed to suit your individual needs. The cost of the treatment will vary depending on the type of dental appliance to be used and the extent of the treatment needed.  Our Orthodontists will discuss costs, easy payment plans and health insurance with you during your initial consultation or planning meeting.