Beautifully Aligned Teeth Without The Need For Braces
Transform your smile in style using clear plastic aligners
Invisalign and Spark Clear Aligners
Townsend Orthodontics is a certified provider for Invisalign and Spark Aligners in Adelaide.  As Orthodontists, we specialise in teeth alignment and offer a wide range of discreet treatment options including ceramic (tooth coloured) and lingual braces in addition to clear aligners.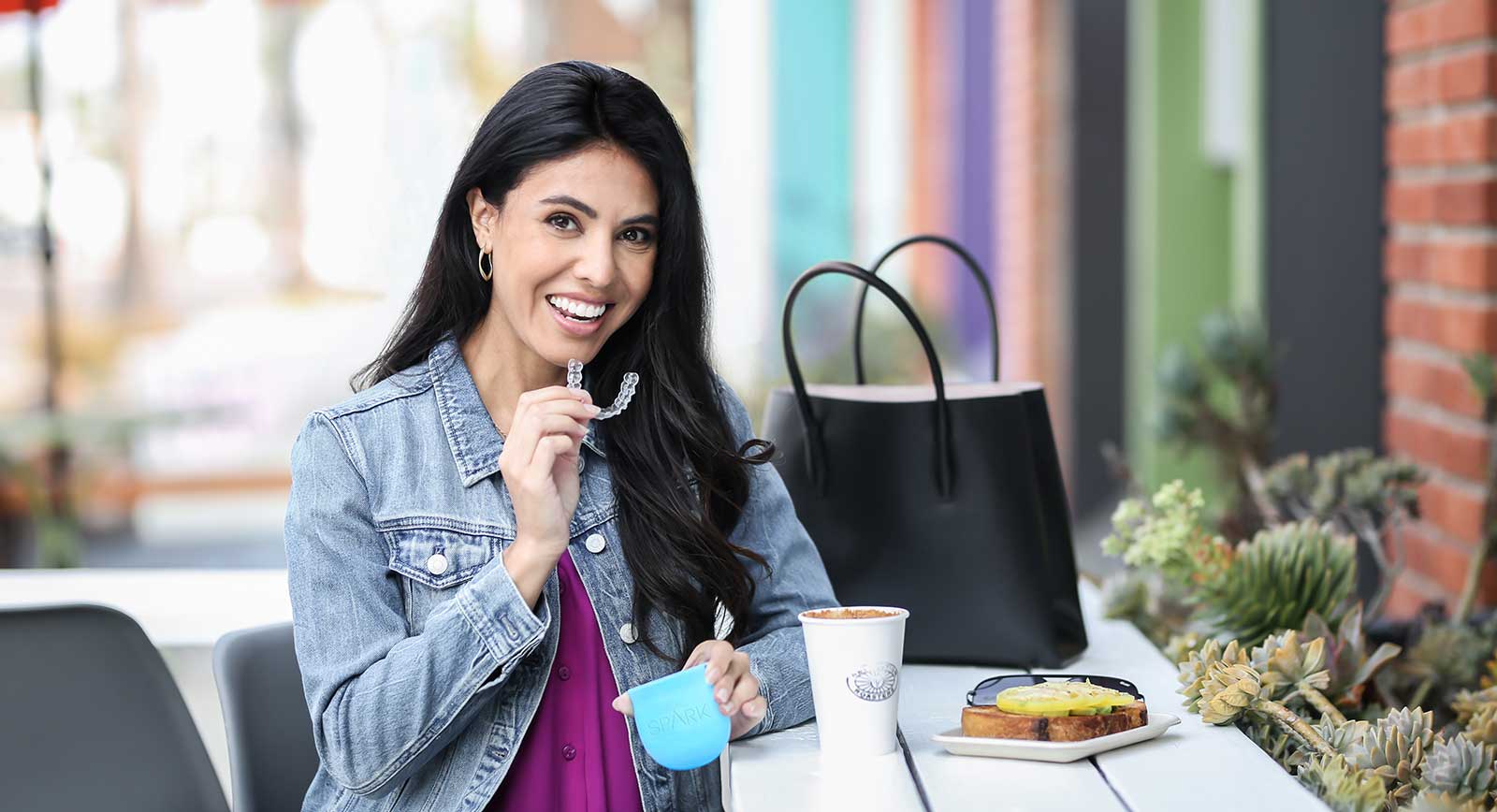 What Are Clear Aligners
Clear aligners use the same principles as traditional metal braces but use thin, super strong transparent trays (like a thin mouthguard) to gently guide the teeth into place rather than wires. Clear aligners are custom designed by our Orthodontists to suit your individual condition and as they are crystal clear, they are virtually invisible, so nobody will know they are there.
Invisible Braces – Invisalign & Spark
Invisalign and Spark clear plastic aligners are custom designed and moulded to treat a range of common orthodontic issues including crooked teeth, gapped teeth and overcrowding. Traditional braces are the most powerful and predictable treatment for more complex dental issues; however, clear aligners can also be used to correct minor bite issues including overbite, underbite, crossbite and open bite.
Designing Your Clear Aligners
As with traditional braces, our Orthodontists start with a comprehensive examination of the mouth to understand and diagnose your condition as well as determine the best treatment options.  We'll take photos, and x-rays and use an intraoral scanner to create a 3D digital model of your mouth.  This is then used to design your aligners and we'll show you a complete 3D simulation of the treatment so you can see how your new smile will look once the treatment is complete.
How Do Clear Aligners Work?
As your aligners are custom built to treat your specific condition, they are designed to gently apply pressure in particular areas to guide the teeth into alignment.  The treatment involves using multiple aligners in a specific sequence, each with a minute difference that applies force to the teeth to gently guide them into position.
Our Orthodontists will talk you through the whole process and every aligner is labelled and numbered to make using the system simple and easy for you to achieve your perfect smile. We'll still need to see you every six to eight weeks for a check-up, but clear aligners require less maintenance than traditional metal braces.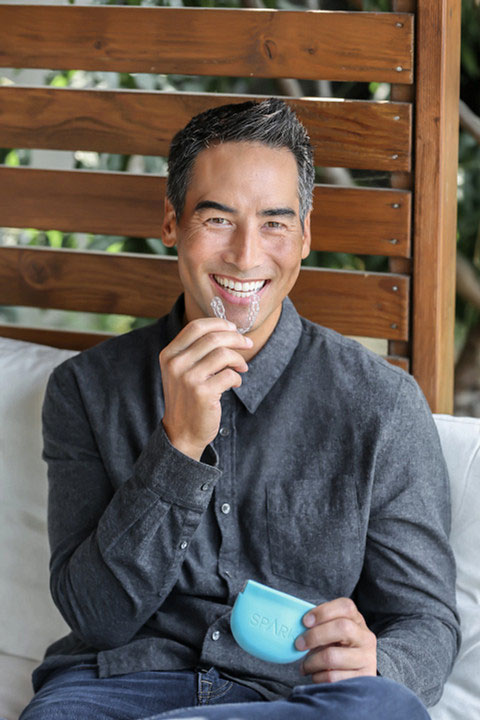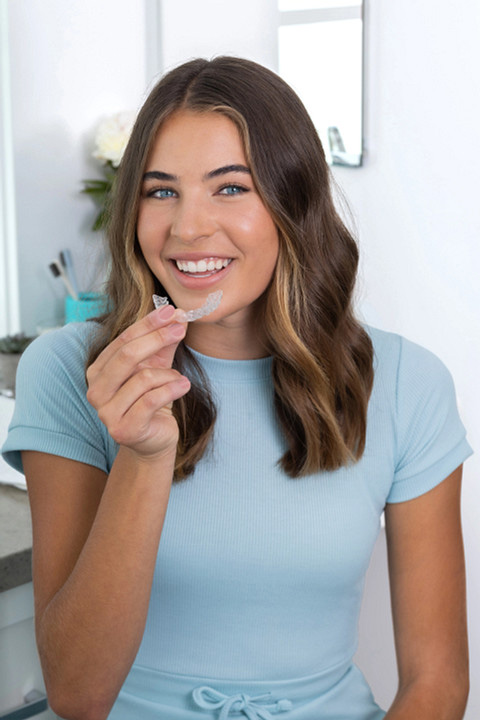 Benefits Of Invisalign or Spark Aligners
Invisalign and Spark aligners are popular with children, teens and adults as they provide all the benefits of braces but are virtually invisible when being worn.
Discreet & Unseen
Made from a thin transparent plastic resin, clear aligners are discreet and often unseen. Now you can straighten your teeth in style without worrying about having braces visible in your school formal, wedding, holiday or special photographs.
Removable
Clear aligners are super strong, yet highly flexible making them easy to remove and refit so you'll never need to miss out on eating the foods you love.
Comfort
All dental appliances take a little while to get used to, but as clear aligners are made from a thin, smooth material, they are less likely to irritate your cheeks and mouth.
Effortless Oral Care
Keeping your teeth fresh and clean is a breeze with Invisalign or Spark aligners.  Simply remove your aligners and brush and floss as normal.
Easy To Maintain
Both Invisalign and Spark aligners are quick and simple to maintain.  After brushing your teeth, simply brush your aligners with toothpaste and rinse with cold water.
Transforming Your Smile
For optimal results, you will need to wear your aligners for at least 20-22 hours per day only removing them to eat, clean your teeth or play contact sports that require wearing a mouthguard.  Failure to wear clear aligners for the prescribed time can impact your smile transformation.
FAQ Invisalign & Spark Aligners

Why use an Orthodontist for Invisalign?
Orthodontists start as dentists but undertake an additional 3 years of accredited postgraduate training focusing solely on the diagnosis, prevention, and treatment of dental and facial abnormalities.  We specialise in teeth and jaw alignment, so we spend all day every day transforming and aligning smiles, so you know you are in highly experienced hands.
Is Invisalign/Spark safe to use?
Both Invisalign and Spark aligners are made from medical grade plastic resin.  They are free from BPA (Bisphenol-A), BPS (Bisphenol S), epoxy and latex and are completely safe for use in children and adults.
Can I smoke when wearing aligners?
Smoking is not recommended when wearing aligners.  Smoking has negative effects on your overall oral health and is likely to stain the aligner making it more visible.
How long does Invisalign / Spark treatment take?
The length of your treatment depends on the number of underlying issues we need to treat.  The more complex the issue the more aligners you'll need and the longer the treatment time.  Aligner treatment often takes anywhere from 9 to 24 months depending on your circumstances.
Will clear aligners affect my speech?
As with all dental appliances, there may be a small adjustment period where your speech may feel or sound slightly different.  This quickly goes away after the first couple of days as you get used to wearing your new aligners.
Can I wear Invisalign or Spark aligners during pregnancy?
Wearing Invisalign or Spark aligners is completely safe during pregnancy.  However, it is always recommended that any x-rays or scans are completed before conception, so please advise your orthodontist if you are trying to fall pregnant.
How much do clear aligners cost?
Every clear aligner is custom designed to suit your individual condition.  The number of aligners needed, and the overall cost of the treatment varies according to the number of dental issues we need to address.  Our experienced Orthodontists will advise you on the treatment options and prices during your initial consultation.
Can you drink tea & coffee when wearing Invisalign or Spark aligners?
Hot beverages can cause the plastic in your aligners to distort, so we always recommend removing your aligners before consuming any hot beverages.
Can I wear my sports mouthguard over my clear aligners?
Sports mouthguards should not be worn with clear aligners. Clear aligners should be removed before applying your sports mouthguard.
Will I need to wear retainers afterwards?
You will need to wear retainers after your treatment has finished to hold your teeth in their new position and to maintain your beautiful new smile.